Apple Rumors- Apple to launch two iPhone 6s, iPads, and an iWatch
Tech blogs everywhere are frothing at the release prospects of Apple's newest, albeit rumored, product releases for 2014.  Rumors are abuzz with the prospect of 2 new iPhones, a new iPad, and Apple's attempt to enter the wearable market with a new, but unofficial iWatch product.
iPhone 6
The two new iPhone 6's will boast larger screen sizes, one said to be in the range of 4.7 inches, and the other around 5.5 inches.  Bigger screen sizes are not a new concept with Samsung's Galaxy Note 3 boasting a 5.7 inch screen, forever blurring the line between smartphones and tablets, creating a new category altogether in what people are calling "Phablets".
This time around, The Wall Street Journal is reporting, citing people who claim to have knowledge of the company's plans, that Apple will launch one iPhone with a screen size bigger than 4.5 inches and another boasting a display in excess of 5 inches.
That report follows another by QQ Tech, claiming the iPhone 6 will feature a 4.7-inch screen. Another iPhone Apple plans to launch this June will come with a 5.7-inch display, according to QQ Tech.
In addition to a larger screen, Apple plans to ditch the plastic casing in the iPhone5C and go with metal in both versions of the device.
For its part, Apple hasn't confirmed that it's even working on a new iPhone, let alone two devices featuring larger displays. Apple is, however, behind on the screen-size front. The company's handset currently boats a 4-inch screen, making it one of the smaller devices on the market. Many Android handsets come with 5-inch-or-larger displays.
iPad Pro
Next on the docket are the rumored two new iPads for 2014.  According to macRumors, along with a larger iPhone, Apple may be planning to add a larger iPad to its current tablet lineup, which comprises the 9.7-inch iPad Air and the 7.9-inch iPad mini. The new "iPad Pro" or "iPad Maxi" as it has been called by the media, is rumored to include a larger 12.9-inch display, which would be similar in size to the current 13.3-inch MacBook Air.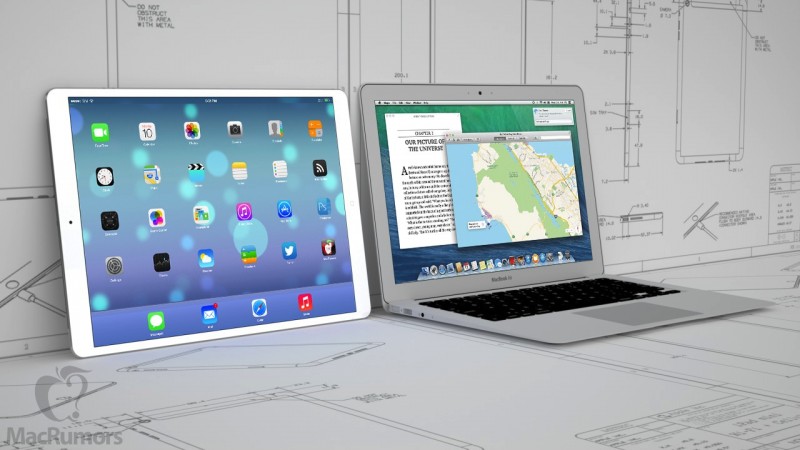 Mockup of the 12.9-inch iPad next to a 13-inch MacBook Air


The display reportedly offers higher pixel density nearing UHD (Ultra High Definition)quality and it will likely adopt many of the design elements offered in the current iPads, like an ultrathin chassis and narrow side bezels. Aside from a larger screen size, not much is known about Apple's larger iPad, and it is unclear when such a product might be released.
iWatch
Also, are the rumors of Apple's awaited entry into wearable tech such as Nike's Fuel Band and Samsung's Galaxy Gear watch.  Apple's much-anticipated "iWatch," which was a major rumor focal point in 2013, will likely be released in 2014. According to rumors, the smart watch will primarily function as an accessory to the iPhone and the iPad, providing at-a-glance access to common iOS functions.
The watch may also include a multitude of biometric functions, possibly offering a pedometer and heart rate monitor, among other things, and it could also serve as a home automation hub. While it is entirely unclear what the iWatch will look like, rumors have indicated that it could have an OLED display in the range of 1.3 to 1.7 inches, possibly coming in multiple sizes for a customized fit.
Apple's iWatch may incorporate an ultra durable sapphire glass screen, as the company recently signed a deal with GT Advanced to ramp up sapphire glass production. Rumors have also hinted at a flexible, curved design.
Over the course of 2013, Apple ramped up  its work on the iWatch, with a team of 100 product designers working on the project. The company also filed for iWatch Trademarks in multiple countries throughout 2013.  Currently, Apple's iWatch is expected to debut during the second half of 2014.
Rumored Specs of the newest Apple products
Current Product
Display
New Product
Display
Timing
iPhone 5
4" 1136×640
iPhone 6
4.7" 1280×720; 5.7" 1920×1080
Q2'14
iPad
9.7" 2048×1536
iPad 5
9.7" 2048×1536; portrait mode, slim bezel
Q4'13
New iPad
12.9" 2732×2048
2014
iPad mini
7.9" XGA
iPad mini 2
7.9" 2048×1536; portrait mode
Q4'13
MacBook Air
13.3" 1440×900
MacBook Air (new)
12" 2304×1440; low power
2014
Apple TV
55", 65" 4Kx2K 120Hz LCD
Q3'14
iWatch
1.3"/1.63" 320×320 flexible AMOLED
Q4'14
2014 should be an exciting year when it comes to new Apple products with additional rumors surrounding its Apple TV product and a 4K display monitor for its Macbook.  What does this mean from a business perspective?  It will be more important than ever for businesses to get in on the app development game to continue to find new ways to reach their customers in an ever-changing mobile universe.  Not only will Smartphones, tablets, and now Phablets become even more ubiquitous, but now wearable technology will be even more pervasive which will usher in more opportunities to reach new customers, and further cement relationships with existing ones.
If you wish to discuss the opportunity of creating a custom iOS App for your business, contact the InspireSmart team at (303) 630-9402 or fill out our contact form located here: http://www.inspiresmart.com/contact-us and receive a free consultation.